141 North 9th Street
Philadelphia, PA 19107
phone: 215.922.5122
fax: 215.922.3299
Hours of Business

Monday: 8:00AM - 6:00PM
Tuesday: 8:00AM - 6:00PM
Wednesday: 8:00AM -6:00PM
Thursday: 8:00AM - 6:00PM
Friday: 8:00AM - 8:00PM
Saturday: 11:30AM - 8:00PM
Sunday: CLOSED

update 09.08.2020
We are updating our site. Prices are subject to change.
WELCOME TO RAY'S CAFÉ
AUTHENTIC CHINESE CUISINE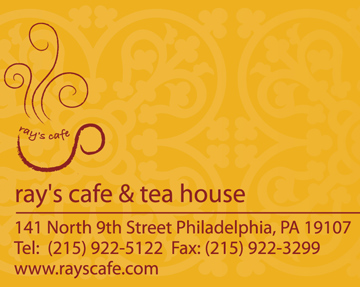 WE CARE ABOUT YOUR HEALTH AS MUCH AS YOU DO BY PERSONALLY SELECTING ONLY THE FINEST OF INGREDIENTS. HERE ARE SOME FACTS ABOUT OUR FOOD:
WE USE ONLY FRESH VEGETABLE OIL
WE COOK WITH VERY LITTLE SALT.
Little Bumble Bee
ALL MAJOR CREDIT CARDS ACCEPTED